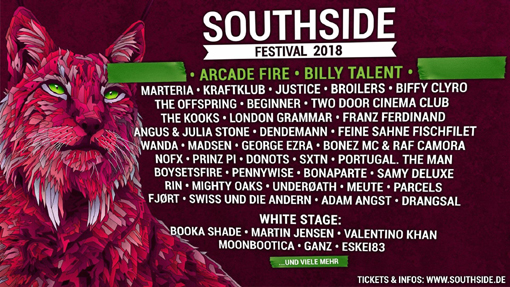 Das Southside Festival gibt es seit 1999 und wurde als süddeutsches Pendant zum Hurricane Festival in Norddeutschland etabliert. Während der vergangenen Jahre hat das Festival in Neuhausen ob Eck international erfolgreiche Künstler, beliebte deutsche Acts und eine große Zahl von Newcomern, von denen einige heutzutage die Headliner-Position einnehmen, präsentiert. Alljährlich treffen sich mehr als 130.000 Besucher aus ganz Europa bei den Hurricane und Southside Festivals. Die Konzepte beider Veranstaltungen werden konsequent weiterentwickelt, beispielsweise durch neue flexiblere und komfortablere Camping-Optionen oder ein breiteres Versorgungs- und Gastronomieangebot. Die Besucher der Zwillingsfestivals haben außerdem einen eigenen Radiosender: Beck's Camp FM berichtet live vom alltäglichen Festival-Wahnsinn und ist als Stream zudem das ganze Jahr im Web verfügbar.
Line-Up: Arctic Monkeys, Arcade Fire, The Prodigy, Billy Talent, Marteria, Kraftklub, Broilers, Justice, Biffy Clyro, The Offspring, Beginner, James Bay, Two Door Cinema Club, The Kooks, London Grammar, Franz Ferdinand, Angus & Julia Stone, Dendemann, Feine Sahne Fischfilet, Wanda, Madsen, George Ezra, Bonez MC & RAF Camora, NOFX, CHVRCHES, Prinz Pi, Donots, SXTN, Portugal. The Man, Brian Fallon & The Howling Weather, Black Rebel Motorcycle Club, Boysetsfire, Pennywise, Bonaparte, Samy Deluxe, Rin, Johnossi, MHD, Mø, Mighty Oaks, Thrice, Underøath, The Vaccines, Jungle, Meute, Talco, Chefket, Stick To Your Guns, Parcels, Frank Carter & The Rattlesnakes, Neck Deep, Romano, Fjørt, Haiyti, Swiss und die andern, Touché Amoré, Adam Angst, Drangsal, Kolari, u.v.m. White Stage: Booka Shade, Martin Jensen, Valentino Khan, Moonbotica, Ganz, ESKEI83, u.v.m.
.
Preis: 219 EUR
Ticket-Hotline: 01806 – 853 653
Weitere Infos: https://www.southside.de
.
.
Quelle | Fotos: © Southside Festival | Promotion Werft