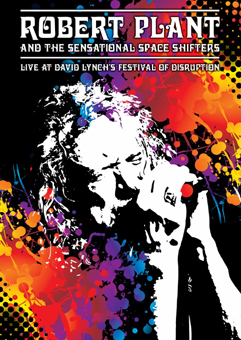 Am 9. Februar 2018 erscheint Robert Plant & The Sensational Space Shifters "Live At David Lynch's Festival Of Disruption" zum ersten Mal als DVD & Digital Video bei Eagle Rock Entertainment im Vertrieb von Universal Music. Gefilmt wurde der Auftritt bei David Lynchs erstem "Festival Of Disruption", das im Oktober 2016 zugunsten der David Lynch Foundation im Ace Hotel Theatre, in Los Angeles, stattfand.
Seit 2012 tritt Robert Plant mit den Sensational Space Shifters auf und präsentiert ein Crossover aus Rock, Blues, Folk, exotischen Beats und nordafrikanischen Rhythmen. Das Publikum beim "Festival of Disruption" feierte insbesondere die neuen Arrangements bekannter Led Zeppelin Klassiker, reduzierte Versionen von "Black Dog" und "Whole Lotta Love", aber auch Songs wie "Babe, I'm Gonna Leave You" oder "Going To California" sowie die herausragenden Solotracks "Turn It Up", "The Enchanter/Rainbow" und "Little Maggie".
Dieses von David Lynch kuratierte Festival hatte das ausdrückliche Ziel, Künstler mit "Erfahrung und Geheimnissen" zu präsentieren; von beidem hat Robert Plant reichlich.
.
Quelle: Universal Music | Promoteam Schmitt & Rauch